Acme Awning builds a variety of residential awnings including custom canvas stationary and retractable awnings, solar screens and porch curtains, deck awnings and patio covers, fabric awnings and window awnings—all designed to be the perfect green solution! They increase energy efficiency, protect interior furniture and carpets from sun damage, and enhance your outdoor living space during warmer months.
Awnings are also a simple, affordable way to cool your home naturally. A study by the Professional Awning Manufacturers Association, commissioned through the Center for Sustainable Research at the University of Minnesota, determined that by reducing direct solar gain through windows, awnings can help reduce cooling costs by as much as 33 percent in climates like the Twin Cities, Minnesota. This in turn helps reduce electricity demand during peak periods and decreases the need for new generators. Click here to see the full study by the Professional Awning Manufacturers Association.
Select an image below for functional, stylish solutions to your residential needs. Visit our online Fabric Showroom to view an extensive collection of fabric colors and designs.  Contact us for a free estimate! Call us or email us for more information.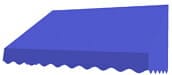 All
Patio Tops (Residential)
Traditional Awning (Residential)