Versatile Minneapolis Store Front Awning
Acme Awning provides fully customized awnings for the Twin Cities metro and surrounding MN / WI area. Some awnings give a modern feel to the façade of a home or business, while others bring an old world charm to the building. In Minneapolis, our customer at Fleurs de Lee was looking for a more traditional solution and opted for a manually operated roller awning with their store name on the valance, which has a scalloped finish.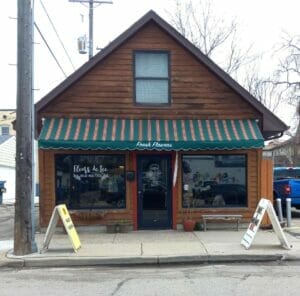 Roller awnings are retractable and can be operated by hand or may be motorized, depending on the customer's needs and budget. These versatile awnings are often installed over store fronts and small patio areas. As with many of our products, finishing touches can be customized to provide the overall look and feel the customer desires. For example, the roller awning at Fleurs de Lee uses a classic stripe pattern for the awning body, but the solid color wavy valance features contrast binding to draw attention to it's shape and style. The resulting awning is just the traditional look the customer was going for. For a more modern look and feel, customers may opt for solid colors and/or straight valances. No matter what style you prefer or what type of awning you are interested in, contact Acme Awning today for a no-obligation free quote.